Birch Aquarium field trip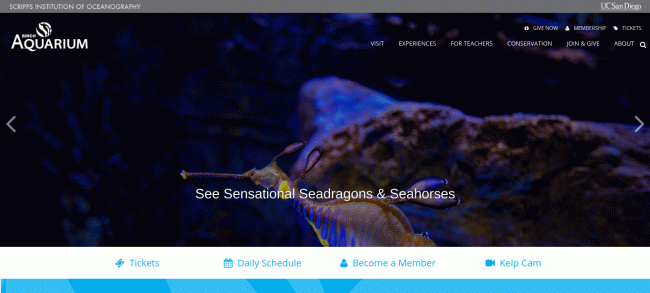 The Birch Aquarium at Scripps, founded in 1905, is the public exploration center for the world-renowned Scripps Institution of Oceanography at University of California San Diego. Located atop a bluff overlooking the Pacific Ocean, Birch Aquarium features over 60 habitats of fish and invertebrates from the Pacific Northwest to Mexico and beyond. An oceanographic museum showcases research discoveries by Scripps Oceanography scientists on climate, earth, and ocean science. At the Birch Aquarium, exploration and play with nature, science, art, and technology is embraced as much as play, social learning, the wow of reality and the power of imagination.

Visitors are able to view a stunning variety of colorful marine life in more than 60 habitats. Interactive and hands-on exhibits fill the museum in an effort to showcase cutting-edge research discoveries that have profound impacts on the Earth and how these discoveries are relevant to everyday lives.

Birch Aquarium offers several different tour options. Self-guided and guided tours require a minimum of 10 people and must be booked at least 2 weeks in advance. Guided tours will last approximately one hour. For a more in-depth adventure, groups can schedule an Ocean or Shark Discovery Experience. During the Ocean experience, guests will be in a private classroom where they will explore the behavior and natural history of live marine animals with an experienced instructor. Shark Discovery will bring learners face to face with a juvenile shark before moving outside to learn about local shark species.
The below video is pulled from Youtube automagically. Please report if it's wrong or inappropriate.

Birch Aquarium at Scripps Institute of Oceanography | Things to do in San Diego California 2021