Cabot's Old Indian Pueblo Museum field trip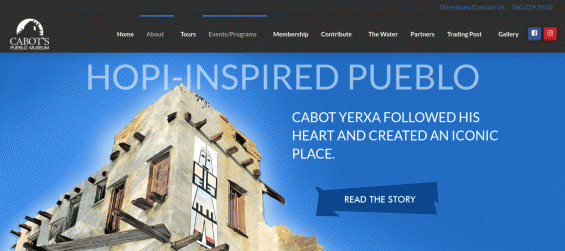 Preserved in honor of Cabot Yerxa, the museum strives to continue his legacy of cultural respect, education, art, community, and the desert habitat. Cabot Yerxa was born on July 11, 1883. He lived throughout the United States and traveled the globe. Cabot's life of adventure led him to become a businessman, artist, and human rights activist with a special focus on the crisis facing Native American tribes. In 1913, he relocated to Coachella Valley and began making his home on 160 acres in Desert Hot Springs.

Cabot was an avid art collector and artist, building his home as a museum with the goal of displaying his collection of Native American art and souvenirs of his travels, as well as his own works.

Group and school tours are available to a minimum of 10 people. During the guided tour, guests will visit the Pueblo and encounter the story of Cabot Yerxa and discover how he created his famous home. Museum hours vary by season and guests are advised to bring water and sunscreen during the warmer months.
The below video is pulled from Youtube automagically. Please report if it's wrong or inappropriate.

Exploring Cabot's Pueblo in Desert Hot Springs
Cabot's Old Indian Pueblo Museum
Address
67616 East Desert View Ave.
Desert Hot Springs, CA 92240
Map / Directions
Categories