Cabrillo National Monument field trip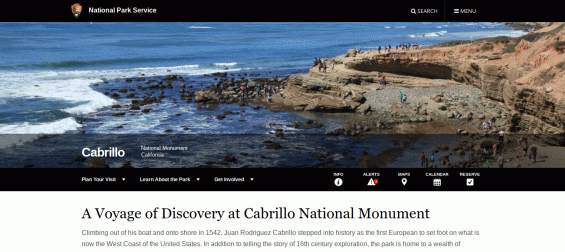 With this trash-free park being a mostly self-guided experience, it's a great trip to go on at your own pace!

The Cabrillo National Monument also features a Ranger-guided walk and talk on the lighthouse, and groups of all sizes are allowed! Pets, however, due to Park regulations, are only allowed in the small tide pool area of the park, where there is no cell-phone service.

A good place to begin your trip would be at the Visitor Center, where there is the " Age of Exploration" exhibit, which gives you a brief history of Cabrillo National Monument. You can also check schedules here, to see what guided programs there are for the time.

With beautiful views outside the lighthouse, it's definitely a place to visit during sunrise/sunset.

To the west of the park is also a coastal area only accessible by car. With low tides and a perfect bird watching scene, this area is not one to be missed by anyone!

The national monument sometimes offers free days on holidays such as Martin Luther King Jr. Day, First Day of National Park Week/National Junior Ranger Day, Founders Day, National Park Service Anniversary, Public Lands Day, and Veterans Day.
The below video is pulled from Youtube automagically. Please report if it's wrong or inappropriate.

8 Things To Do at Cabrillo National Monument
Cabrillo National Monument
Categories