California Heritage Museum field trip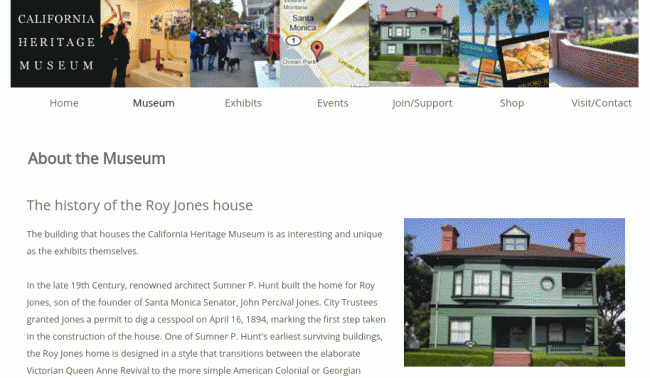 From the history behind its owners, to being featured in newspaper articles on more than one occasion, The California Heritage Museum certainly has an incredible history behind it. The California Heritage Museum wasn't always known under that name, at one point it was called The Roy Jones House many years ago when it was owned by the Jones family. In 1977 The Roy Jones House was moved to its current location and then in 1979 it was officially marked as a City Landmark and turned into what we now know as The California Heritage Museum. The history behind the house is what caused the city to save it and turn it into the historical place that it is today.

Some of the permanent exhibits at The California Heritage Museum include photographs of the Jones family, photographs of the house's move to Main Street, and photographs of an Ostrich Farm that once made up a great deal of Ocean Park in 1893. Exhibits are changed out every few months, some past exhibits include Rock & Roll Legends, Watercolor, Navajo Textiles, and Awkward Family Photos. The California Heritage Museum is only open certain days of the week for short periods of time so be sure to contact the museum ahead of time for hours and days of operation.
The below video is pulled from Youtube automagically. Please report if it's wrong or inappropriate.

California Heritage Museum
California Heritage Museum
Categories