Camarillo Ranch House Museum & Historical Site field trip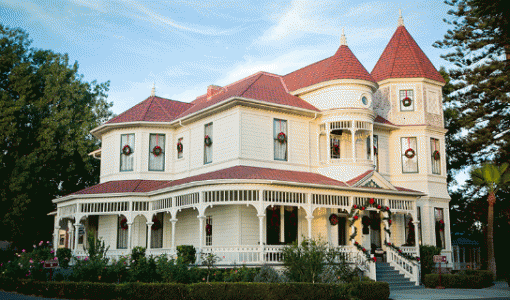 Experience daily life in the early 1900s at Adolfo Camarillo's family 1892 Queen Anne Victorian home in Ventura County. The gorgeous 6,000 square foot house contains 15 rooms, all restored to their former uses and furnishings from over a century ago.

Students will be taken on a docent-led tour of the Camarillo Ranch House Museum & Historic Site. These tours are aimed at third-grade students and include rotations through the various rooms in the house, each with a unique story to tell. Pictures, ornate decorations, and furniture adorn the house in every direction, leaving the viewer in awe.

Beyond the house, visitors will tour the grounds which include the Mule Barn built in 1905, extensive vibrant gardens, and beautiful foliage. Students will take part in fun, interactive, educational activities from the turn of the century such as cattle roping, utter churning, lima bean planting, and many more.
The below video is pulled from Youtube automagically. Please report if it's wrong or inappropriate.

The Historic Camarillo Ranch | Events & Occasions in Camarillo
Camarillo Ranch House Museum & Historical Site
Categories