Chino Youth Museum field trip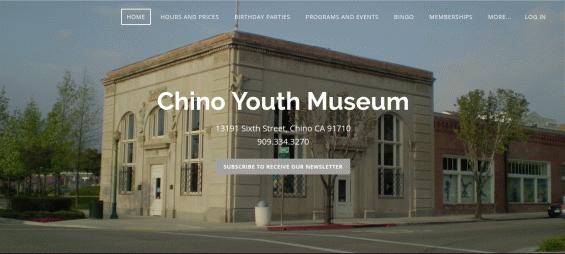 The Chino Youth Museum is a wonderful place for families and school field trips to enjoy themselves. The museum consists of a variety of fun areas where young children can learn and play.

Resembling a small indoor town, the Chino Youth Museum has a number of areas for children to play and interact. Among the many interactive indoor exhibits is a bank where children can count money, a kitchen to create delicious pretend meals, a fire station, and a police station which includes a real-life police motorcycle!

A favorite area in the museum is the science area where children can gain a vast knowledge of scientific information and even check out astronaut gear! Rain or shine, Chino Youth Museum is a fun place that young children are guaranteed to enjoy.

The Chino Youth Museum also hosts events such as First Friday and Kids Night Out, another event hosted by the museum is the seasonal Autism Resource/Special Needs Resource & Fun Fair.

To top it all off the museum is also available to book for tours and birthday parties!

Tours include 90 minutes to explore the museum exhibits and create crafts.
The below video is pulled from Youtube automagically. Please report if it's wrong or inappropriate.

Chino Youth Museum