Creation & Earth History Museum field trip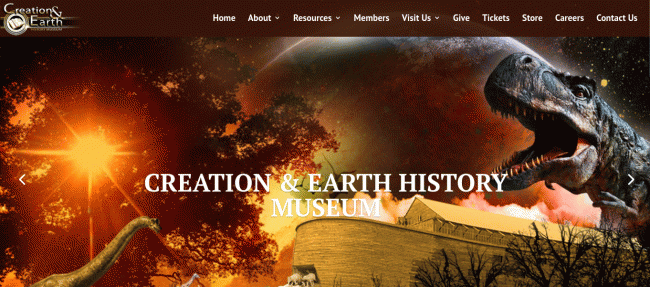 The mission at the Creation and Earth History Museum is to give educational and evangelistic opportunities through activities which provide evidence of God's creation. Tours are given by the museum but are only available certain days of the week and by appointment only. While touring the museum, visitors will learn about Biblical and scientific accounts of life's origins and history. The museum offers a Field Tour which allows visitors to go outdoors and explore God's Creation, this is also only available by appointment.

Exhibits found at the museum include Dino play area and garden, Dino Soft Tissue, and The Tabernacle. Other exhibits include Creation Days 1-3, Day 4- Astronomy, and Days 5-7 The Garden. Visitors are also welcome to check out The Grand Canyon Wall exhibit, Mount St. Helen exhibit, the Age of Earth Mineral Cave exhibit, the Ancient Civilization exhibit and the Human Anatomy exhibit. There is also a Hall Of Scholars exhibit dedicated to the scientists.
The below video is pulled from Youtube automagically. Please report if it's wrong or inappropriate.

Creation and Earth History Museum
Creation & Earth History Museum
Categories