Decanso Gardens field trip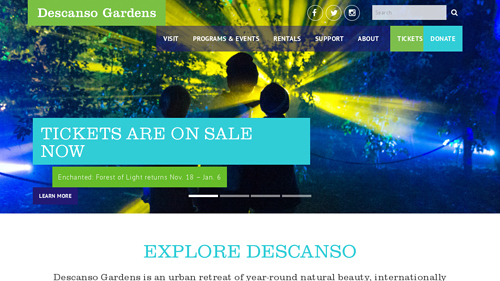 Located 20 minutes from downtown Los Angeles, Descanso Gardens is a botanical garden and place of year-round natural beauty, with internationally renowned botanical collections and spectacular seasonal horticultural displays.

Accredited by the American Association of Museums as a museum of living collections, Descanso Gardens welcomes 250,000 visitors annually. The principal collections include California native plants and oak woodlands; a rose garden with specimens from all corners of the globe; and significant presentations of irises, cherry trees, maple trees and lilacs.

At Decanso Gardens, you may also see some animals, like western screech owls, bobcats, deer, koi, great blue herons, and more!

General Admission is $9, but there are discount rates for seniors and students.
The below video is pulled from Youtube automagically. Please report if it's wrong or inappropriate.

Revelries - Descanso Gardens