Elverhoj Museum field trip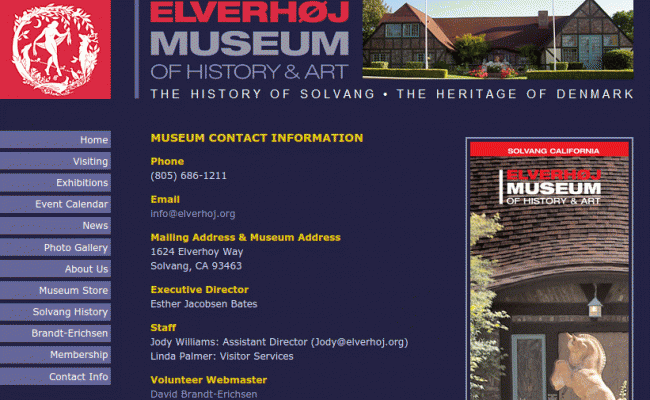 Elverhoj Museum is the former residence of one of Solvang's most artistic families, which is now a community museum devoted to the history of Solvang, the Danish-American pioneer spirit, the colorful heritage of Denmark, and the arts.

The Elverhoj museum was the dream home of Viggo Brandt-Erichsen and his wife, Martha Mott. He was an internationally recognized painter and sculptor and she was an accomplished painter and art teacher. In 1950 the Brandt-Erichsens began building their home in the style derived from the large farmhouses of 18th century Jutland in northern Denmark. Ornamental wrought ironwork, a carved redwood main entry door, and hand-painted panels are a few of the permanent imprints of this remarkable family.

Museum exhibits include historical information and artifacts necessary to meet many different California Content Standards for various grades. In years past, Elverhoj had teaching professionals carefully develop standards-based curriculum for third and tenth grades. In addition, activities and handouts have been designed specifically for students and families. Member and group tours are available by appointment. Service animals are welcome, but pets are not allowed inside the Museum.