Fontana Arts Program field trip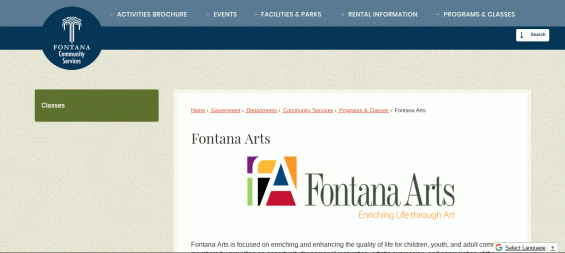 The Fontana Arts program has assisted in enhancing the local economy of the city of Fontana as well as enriching the lives of Fontana residents.

The Fontana Arts Program has helped local community members become more invested and interested in both fine arts and performing arts. The program creates a number of events throughout the year to encourage residents in the city of Fontana to participate in and showcase their talent. The events include art and performance classes, talent shows, workshops, free fine arts shows, local bands, food and much more.

The events were created after a community survey revealed that nearly 50% of households had an interest in cultural arts which led the City Council to increase arts engagement and opportunities throughout the city of Fontana. Locals of all ages are encouraged to participate in the events whether it be by selling their own work, teaching a small demo class or simply attending the event and engaging in hands-on artistic experiences.

The Fontana Arts Program gives the community a new appreciation of fine and performing arts.
The below video is pulled from Youtube automagically. Please report if it's wrong or inappropriate.

Fontana Arts Quarterly Artist Showcase - featuring Tom Elenbaas