Fort MacArthur Museum field trip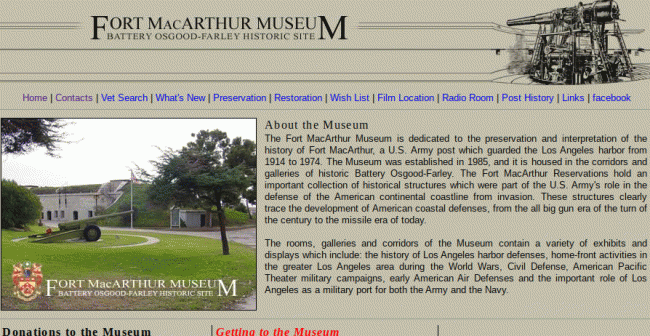 Established in 1985, the Fort MacArthur Museum aims to preserve the history of Fort MacArthur, a U.S. Army post which guarded the Los Angeles harbor from 1914 to 1974. Housed in the galleries of the historic Battery, Osgood-Farley, the building holds an important collection of historic structures that played a part in the defense of the American continental coastline from invasion.

Exhibits within the museum include those depicting the history of Los Angeles harbor defenses, home-front activities in the greater Los Angeles area during the World Wars, Civil Defense, American Pacific Theater military campaigns, early American Air Defenses and the important role of Los Angeles as a military port for both the Army and the Navy.

Tours are available upon request and must be scheduled ahead of time.
The below video is pulled from Youtube automagically. Please report if it's wrong or inappropriate.

Fort MacArthur Virtual Tour