Fullerton Museum Center field trip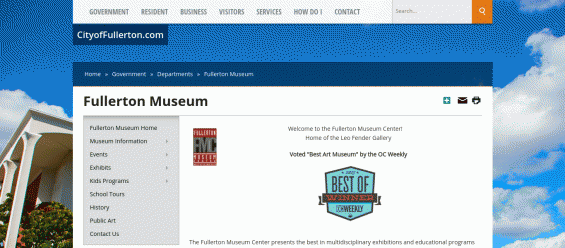 The Fullerton Museum began as a joint effort between pharmacy owners, Mr. & Mrs. William Starbuck and their community. Residents donated to the couple who began the first Traveling Circulating Library in the back room of their pharmacy. As demand for educational resources grew, Mayor C.C. Chapman suggested the construction of a library. After a generous grant from the Carnegie Foundation, the brand new Carnegie Library opened its doors on December 16, 1907. As the town and its needs for education grew, a larger library building was commissioned in 1940 and eventually led to the founding of the Fullerton Museum Association in 1971.

In 1974, at the site of the former library, Museum Association of North Orange Count (formerly Muse 9) opened with its first permanent collection of bones from the La Brea Tar Pits.

The Fullerton Museum offers an exclusive homeschool day in which students are given a guided tour while discussing topics that align with State Curriculum Standards for US History. Reservations are required.