General George S. Patton Memorial Museum field trip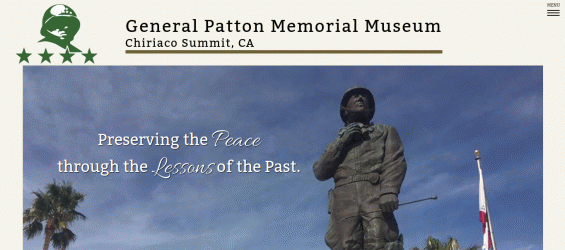 The General Patton Memorial Museum educates the public on Modern U.S. Military history through the preservation and interpretation of artifacts from major conflicts. There are four main exhibits available for viewing, The Tank Pavillion, The Matzner Tank Yard, Chandi West Wing, and The Remembrance Wall. There are stories shared at the museum ranging from the Homefront to men and women that served in the military. Between viewing the exhibits and hearing the stories shared, you will leave the museum full of pride, passion, and patriotism knowing who we are, where we came from and all that was sacrificed to get us where we are today.

At the Chandi West Wing, you will learn about D-Day, World War Two, Battle of the Bulge, Holocaust, and much more. In the Matzner Tank Pavillion, you will find 2 & a half ton Tanks, a Japanese Artillery Gun, and M-60's. This is a hands-on exhibit which allows you to climb inside of an M-60. The Tank Yard contains numerous tanks ranging from the most produced tank in World War Two, the M4 Sherman Tank, as well as M26 tanks, DUKW tanks, M48 Patton Tanks and M60a Patton Tanks, and more. The Remembrance Wall memorializes all who have protected our freedom, past and present. It is truly an amazing place to visit.
The below video is pulled from Youtube automagically. Please report if it's wrong or inappropriate.

Checking Out The General Patton Memorial Museum in Chiriaco Summit, California
General George S. Patton Memorial Museum
Categories