Guy B. Woodward Museum field trip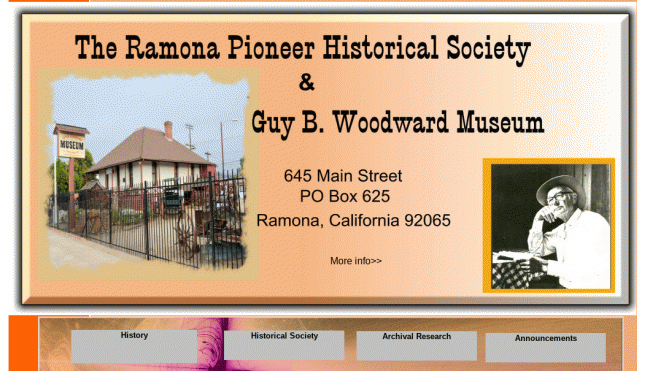 Guy B. Woodward's meticulous research into his Ramona roots generated a quaint museum that bears his name. He began assembling artifacts in the 1940s and recording the memories of everyone from ranchers to Civil War veterans.

As President of the Ramona Pioneer Historical Society, Woodward prompted the opening of a small museum in the Ramona town hall in 1979. A few years later, the museum was named in his honor by the Ramona Pioneer Historical Society. In 1985 the museum moved to the historic Verlaque house, which is a French provincial style home built in 1886 by Theophile Verlaque who moved to San Diego in 1870. The museum was added to the National Register of Historic Places in 1991.

Today, the museum exhibits historic treasures of early Western culture, including antique furnishings, vintage clothing, cowboy artifacts, and mining equipment. Resembling a small Old West town, the surrounding buildings include a cowboy bunkhouse, blacksmith shop, tack room, one-room school, post office, and millinery shop.

The museum also contains the Casey Tibbs Memorial Exhibit, Bancroft Memorial Rose Garden and Dr. James Robert Moriarity III Archaeological Archives. A large collection of pioneer wagons and tools, a medicine wagon and an early day Ramona firetruck are also on display.

Tours are available but must be scheduled ahead of time.
The below video is pulled from Youtube automagically. Please report if it's wrong or inappropriate.

Ramona, California on Traveling With Françoise