Laguna Art Museum field trip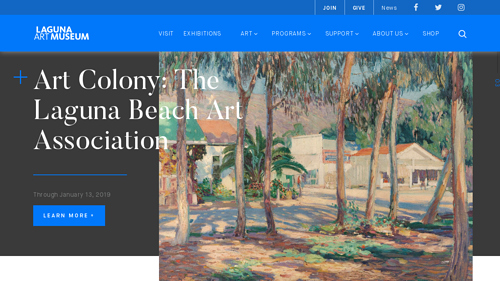 The Laguna Art Museum is also known as The Museum of California Art. It is the only Art Museum on its coast to collect, care for and exhibit works of art strictly created by California artists or works of art that represent the life and the history of California.

The museum's collection consists of over 3,500 pieces of art ranging from the 19th century to present day. Engaging interactive and age-appropriate school tours are available for all grade levels. Contact the front desk to schedule a field trip.

The Laguna Art Museum offers events such as the Art and Nature Festival, which consists of specially commissioned outdoor works of art. There are art lectures, panel discussions, films, and family activities available at the festival. One activity offered by The Laguna Art Museum is their Family Art Studio. At the Family Art Studio, you can create works of art inspired by the exhibits viewed throughout the museum.

The below video is pulled from Youtube automagically. Please report if it's wrong or inappropriate.

Laguna Art Museum