Los Angeles Zoo and Botanic Gardens field trip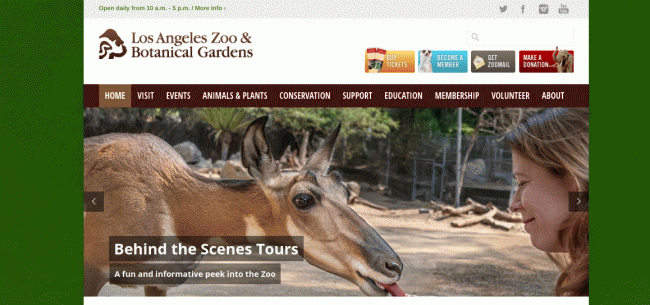 The Los Angeles Zoo and Botanical Gardens opened on November 28, 1966. The Zoo is home to more than 1,400 mammals, birds, amphibians, and reptiles representing over 270 different species, of which more than 58 are endangered. The Zoo's botanical collection comprises several planted gardens with over 800 different plant species.

The zoo also offers animal talks, shows, feedings, demonstrations, interactive play spaces, and a carousel. Behind-the-scenes tours are offered as well, where you can get a fun, informative peek into how the 1,400 animals at the zoo are cared for - from preparing food to creating the perfect habitat, you'll witness the work that goes into making the zoo the perfect home for the animals.

Groups of 15 or more qualify for special group pricing and tickets may be purchased at the gate at the time of your visit. In addition to regular zoo visits, guests can schedule special camps and events ahead of time, such as Safari Days for grades K-5. During Safari Days, children will learn about the diverse regions of their world and the animals that live there.

The zoo urges all visitors to be respectful of the animal residents when visiting and reminds guests to refrain from attempting to feed the animals. Feeding the animals could result in your removal from the Zoo.

The below video is pulled from Youtube automagically. Please report if it's wrong or inappropriate.

The Los Angeles Zoo has a botanical garden, here's a quick look around. #PLANTS #SUCCULENTS #CACTUS
Los Angeles Zoo and Botanic Gardens
Categories