March Field Air Museum field trip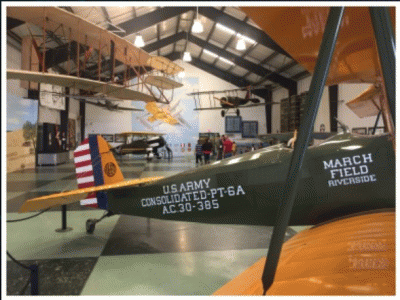 The March Field Air Museum is a great place to take students for a field trip, they also offer tours for Scouts and Homeschoolers as well. At the March Air Field Museum children can play in the interactive play area where they can dress up in official aviator clothing and climb into a cockpit mock-up, as well as other activities.

The March Air Field Museum is home to over 70 aircraft and over 30,000 artifacts. During your tour at the Museum, you will learn how March Field Air played a pivotal role in flight development. There are personal letters from famous aviators as well as anonymous aviators, along with flight gear, uniforms, and stimulators. You are able to tour Mission Control and learn about the history of space exploration. The aircraft available to tour range from as early as the beginning days of aviation all the way to the latest tactical aircraft. While at the museum, don't forget to explore Heritage Courtyard; a place of memorial. At Heritage Courtyard you will find Flying Cross National Memorial, The West Coast War Dog Memorial, 15th Air Force Wall, and the P-38 Lightning Memorial.
The below video is pulled from Youtube automagically. Please report if it's wrong or inappropriate.

March Field Air Museum - Aircraft Museum Video Tour in Riverside California