Mission San Luis Rey de Francia - 18th mission field trip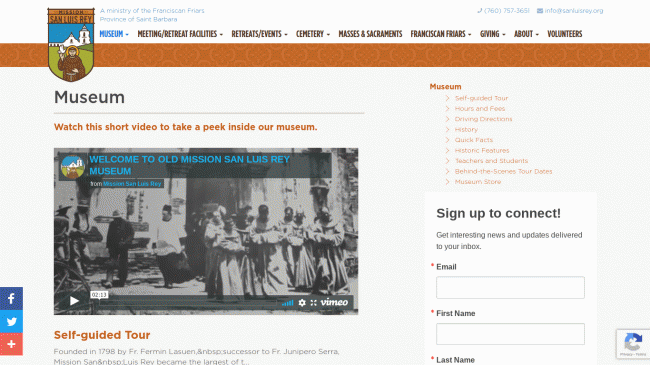 The 18th Missions, San Luis Rey de Francia, was founded in 1798 as the largest of the twenty-one Missions. Guests who visit San Luis Rey will see what life was like on a mission in early California. There are a number of areas to visit while exploring the Mission, such as their art gallery, courtyards, cemetery, soldier barracks, carriage arch, gardens and more. San Luis Rey is still an active Mission with Franciscan Friars who continue to serve the community.

Field trips are welcomed at San Luis Rey. Students will get the opportunity to tour the museum and its grounds at their own pace as well as interact with a docent while discussing the Mission. Once field trips are confirmed teachers will get a resource guide which helps prepare students for their visit to the San Luis Rey de Francia Mission. Students are sure to enjoy touring the grounds and learning about its history as well as the impact that it has made in California since being founded.
The below video is pulled from Youtube automagically. Please report if it's wrong or inappropriate.

California Mission #18 San Luis Rey de Francia
Mission San Luis Rey de Francia - 18th mission
Categories