Mission Santa Barbara - 10th mission field trip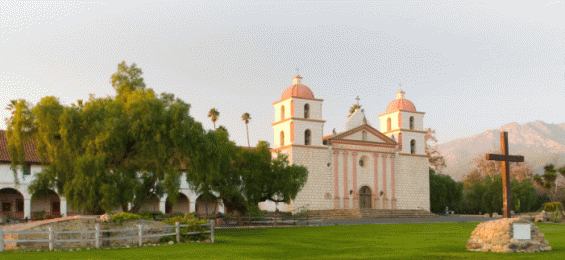 The namesake of both Santa Barbara city and county, Mission Santa Barbara was founded in 1786 as the tenth of twenty-one California Missions founded by the Spanish Franciscans. Today, it still serves as a church with a faithful parish and houses a museum, mausoleum, and twelve gorgeous acres of landscaped gardens. Situated on the edge of the Pacific Ocean, the Mission offers no shortage of breathtaking views.

The Museum features 9 rooms full of history including a recreated 17th-century kitchen, the Chumash room containing many Native American tools, crafts and artifacts, and the Treasures room with the beautiful original Chumash altar.

The Mission Santa Barbara has offered tours to students in the nearby school districts for 20 years. The fun and interactive tour can be self-guided or docent-led and includes the cemetery, Sacred Garden, Mission Church, and Museum.

Student groups can also add a visit to the Historic La Huerta Garden, which features a collection of heirloom and historic plants that once grew during the Mission era. Adding this option gives you the most comprehensive tour of Mission Santa Barbara available!
The below video is pulled from Youtube automagically. Please report if it's wrong or inappropriate.

#10 Mission Santa Barbara - 1786
Mission Santa Barbara - 10th mission
Categories