Muller House Museum field trip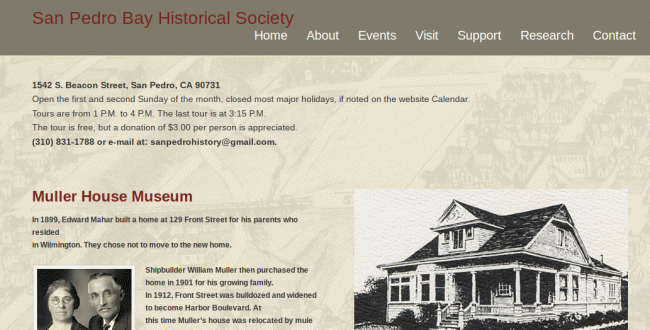 Built by Edward Mahar for his parents in 1899, the Muller House was bought by shipbuilder William Muller for his family in 1901 after Mahar's parents decided not to move into the home. The home was moved several times due to city construction and upgrades until 1988 when the home was donated to the San Pedro Bay Historical Society for use as a museum and made its final move to a bluff overlooking San Pedro Bay.

The Muller House Museum offers guided tours, changing exhibits, historical talks, and special events. The Museum is open on the first and second Sunday of each month. Offered tours are free, but a donation of $3.00 per person is appreciated. Requests for special group tours should be made ahead of time by contacting museum staff.
The below video is pulled from Youtube automagically. Please report if it's wrong or inappropriate.

San Pedro Bay Historical Society Presents Windows Into the Past