Museum of Contemporary Art field trip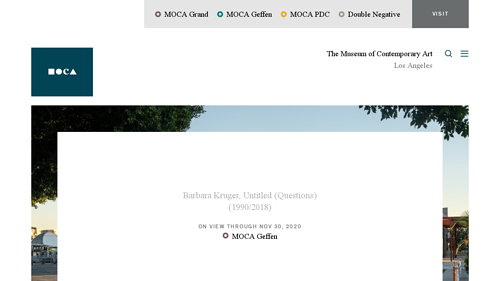 The Museum of Contemporary Art, Los Angeles (MOCA) is a contemporary art museum with three locations in greater Los Angeles, California. The main branch is located on Grand Avenue in Downtown Los Angeles, near Walt Disney Concert Hall.

The museum's exhibits consist primarily of American and European contemporary art created after 1940.

The MOCA Downtown Los Angeles location is home to almost 5,000 pieces, including masterpieces by classic contemporary artists, and inspiring new works by emerging and mid-career artists from Southern California and around the world. The MOCA is the only museum in Los Angeles devoted exclusively to contemporary art.

General Admission is $15, but student rates, senior rates, etc. are available.
Admission is free every Thursday from 5pm to 8pm.




The below video is pulled from Youtube automagically. Please report if it's wrong or inappropriate.

The Museum of Contemporary Art in LA #shorts
Museum of Contemporary Art
Categories