Natural History Museum of Los Angeles County field trip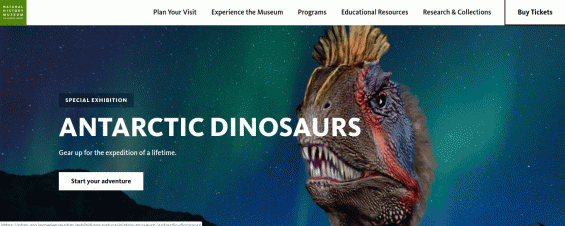 The Natural History Museum of L.A. County offers visitors a chance to enjoy hands-on and fun-filled educational activities, perfect for all ages. Whether your child enjoys dinosaurs and mammoths, or gems, minerals and nature, the Natural History Museum has it all. Not only does the Natural History Museum explore prehistoric days, but it also gets into detail about the history of L.A. and nature.

Activities that children are sure to enjoy include, Community Science, Performing Arts, Critter Club, Adventures in Nature, Gardening, and Second Nature, sleepover events are also available. Amazing displays that can be found throughout the museum include Antarctic Dinosaurs, Insect Zoo, Becoming Los Angeles, Gems and Minerals, Discovery Center, and more.

The Natural History Museum is an amazing place where children are sure to enjoy a fun-filled day full of educational information while playing and interacting.

Class Field Trips and Home School Days are offered at the museum, call the front desk for available dates and times.
The below video is pulled from Youtube automagically. Please report if it's wrong or inappropriate.

Los Angeles Natural History Museum | Everything In 8 Minutes
Natural History Museum of Los Angeles County
Categories