Old Orange County Courthouse field trip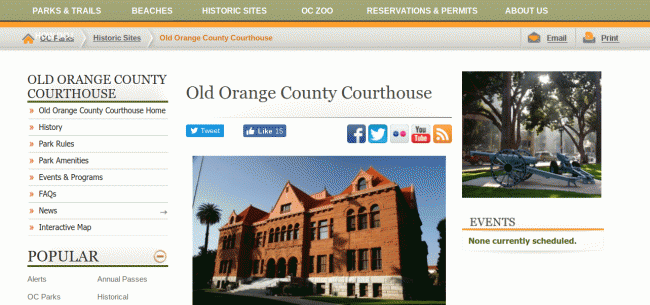 The Old Orange County Courthouse is a historic landmark that was established in 1901. It is the oldest court building in Southern California. Scheduled tours are available to take at the Old Orange County Courthouse, or you may do a self-guided tour, and there are both permanent and temporary exhibits available for viewing while on tour. The Old Orange County Courthouse contains The Orange County History Center, Courthouse Museum, Orange County Archives, and The Library of the Pacific Coast Archaeological Society. It has also been in films such as Now You See Me and throughout the years it has helped Orange County become what it is today.

Passports and marriage certificates are available through this beautiful courthouse, and other records can still be found at the courthouse. Contact Old Orange County Courthouse ahead of time for document information, information on touring the building, and for hours and days of availability.
The below video is pulled from Youtube automagically. Please report if it's wrong or inappropriate.

Old Orange County Courthouse
Old Orange County Courthouse
Categories