Paramount Pictures Studio Tour field trip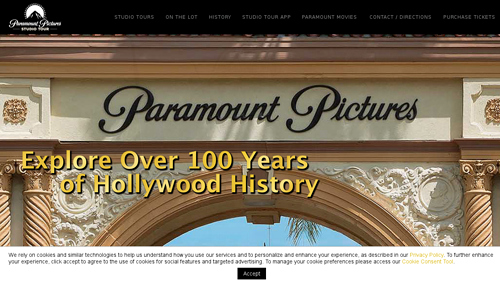 Explore over a century of Hollywood history and witness more in the making. During your visit, you'll see where some of the most celebrated movies and TV shows are made.

Paramount's past and current achievements come together in this close-up, behind the scenes look at a true working studio. Step into the world of the industry's top talent, crew, and producers as they create today's award-winning television and films.

The Paramount Studio Tour will immerse you into where it all began.
You'll discover Hollywood's first major movie studio led by an engaging Studio Page, visiting iconic locations like the New York Street Backlot, Bronson Gate, and the Prop Warehouse. Each step of the way, you will learn how Paramount's legacy influenced Hollywood and the world.
The below video is pulled from Youtube automagically. Please report if it's wrong or inappropriate.

Paramount Pictures Studio Tour Is Strict But Amazing - Walking Around The Old Hollywood Backlot
Paramount Pictures Studio Tour
Categories