Pasadena Museum of History field trip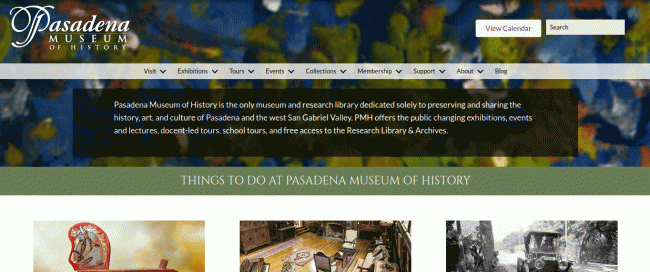 The Pasadena Museum of History is the only museum and research library dedicated solely to preserving and sharing West San Gabriel Valley and Pasadena history, art, and culture. The archives collection includes almost one million historic photographs, manuscripts, books, maps, architectural artifacts, and ephemera. Their unique collection includes textiles, ceramics, furnishings, 3D materials, and paintings from renowned plein air painters.

The PMH offers Junior Docent programs, My Masterpieces: Painting the Beautiful, and special, customized tours. During the Junior Docent program, students are trained to lead younger students on a tour of the museum. My Masterpiece tours focus on Eva Scott Fenyes's love of art and follow general visual arts curriculums. Students will discuss the use of various artistic techniques and mediums. Educators can work with the museum to assemble a customized tour based on what curriculum is being taught in the classroom, or students may participate in a self-guided tour.
The below video is pulled from Youtube automagically. Please report if it's wrong or inappropriate.

PASADENA MUSEUM OF HISTORY
Pasadena Museum of History
Categories