Planes of Fame Air Museum field trip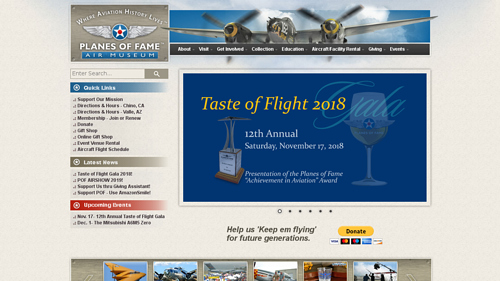 The Planes of Fame Air Museum is a "living history" museum, where the aircraft are not only preserved, but are kept flying!

Through the generosity of the many people who donate funds or aircraft parts to the museum and the dozens of volunteers who donate their time to restore and maintain the aircraft, many of these rare warbirds are in flying condition.

To share the collection with the public, the airplanes are flown regularly, participating in airshows, military base open houses, various events, and are used in the making of television programs and motion picture presentations.

The Military Vehicle Corps, often referred to as the Motor Pool, is a small group within the Planes of Fame Air Museum family. The Military Vehicles in the museum's collection are primarily from World War II and are maintained and operated by a group of Museum volunteers. These vehicles are used in parades, public events, and WWII re-enactments.

A specific aircraft may be absent from the Chino or Valle locations at times due to an airshow or other event. Check out the Aircraft Flight Schedule page to see when various aircraft will be away and/or flying.



The below video is pulled from Youtube automagically. Please report if it's wrong or inappropriate.

A Walk Through "Planes of Fame" Museum
Planes of Fame Air Museum
Categories