Providential Heritage Academy at Mile High Ranch field trip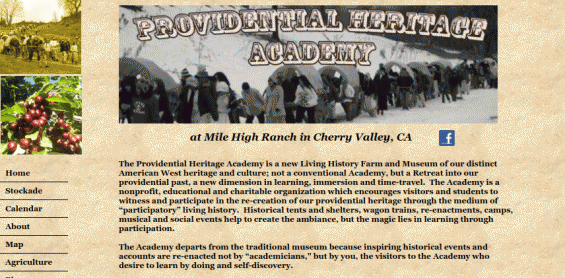 Mile High is the perfect place for history lovers that want to participate and get a full hands-on experience about being a Pioneer. Providential Heritage Academy is a living history farm and museum offering participatory events. These events include a re-creation of history using historical tents, shelters, wagon trains, re-enactments, camps, and more. You can hitch a wagon, load your cart up with belongings, herd the goats, and establish new settlements as well as split cedar trunks to use as shingles, drive horses for plowing and use tomahawks, knives and take archery classes.

There are three tours offered; day trips, 3-5 day tours, and overnight tours. Each tours activities vary as does pricing. What's great about Providential Heritage Academy is if you want to teach your classroom about the history of Pioneering, but can't make it out to the Academy, then they will come to you!

The Academy will come to your school with interactive activities such as Gold Rush where children will learn the history behind the Gold Rush and get an opportunity to pan for gold. A California Missions Spanish character will come to class and speak about life at Missions and activities such as brick-making and Native American culture. Your class will love it when George Washington, Issac Newton, Galileo, Billy Yank, or Johnny Reb come to your class and discuss their parts in history. Not all characters are available at the same time, so contact the Academy for scheduling your preferred guest.
The below video is pulled from Youtube automagically. Please report if it's wrong or inappropriate.

The Providential Heritage Academy
Providential Heritage Academy at Mile High Ranch
Categories