Ramona Bowl Amphitheatre field trip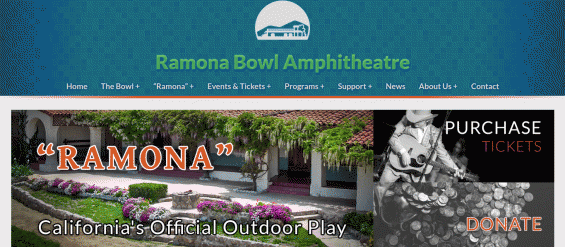 Inspired by the 1884 book Ramona written by Helen Hunt Jackson, the Romana Bowl Amphitheater is committed to presenting educational and historic programs while continuing education programs for the community and driving tourism. Admirers of the book sought a natural setting to hold their production and eventually purchased 160 acres in a nearby canyon. Each spring, the amphitheater performs California's official outdoor play, Ramona; the namesake of the establishment itself. Their website states that Ramona is "More than just a love story, its pageantry and grander creates an aura of exuberance that you simply cannot experience anywhere else."

In a focused effort to educate younger generations about the arts the amphitheater offers a Summer Youth Theatre program as well as Fourth Grade Day at Ramona.

During the Summer program, students aged 5-18 will rehearse for three weeks. During this time they will learn acting skills, singing techniques, and dancing skills.

Fourth Grade Day at Romona is an annual educational performance that covers nearly every standard for fourth-grade social studies.
The below video is pulled from Youtube automagically. Please report if it's wrong or inappropriate.

2019 Ramona Bowl Pageant