Rancho Camulos Museum & National Historic Landmark field trip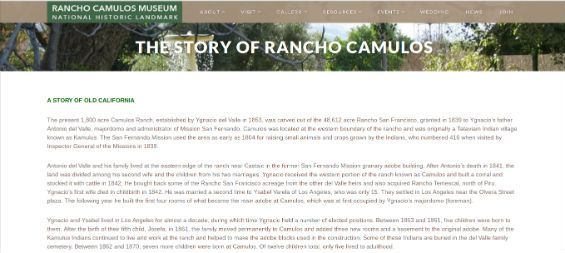 One of the few known Museums that exists in its original rural setting, the Rancho Camulos Museum & National Historic Landmark sits within a 1,800-acre ranch. As is the story with many of the area's ranches, Rancho Camulos began as an early Chumash village, was granted to a prominent California family, and became a symbol of culture and hospitality.

The ranch consists of fifteen buildings that are available for the public to explore during tours, all of which were built before 1930 and still stand in their original locations. Aside from the main house, the ranch contains a fountain, a small pond, a chapel, a rose garden, a winery, and much more.

The Museum is one of the few sites available for field trips on a year-round basis, encouraging public, private, and home school groups to come and visit. The friendly docents will lead the groups to all the buildings on the property and will lead them through fun and interactive activities such as tortilla making, adobe brick making, and play theatre.

Dates fill up quickly for this truly unique experience, so make sure to fill out the school tour reservation form on the website to inquire about specific dates you have in mind.
The below video is pulled from Youtube automagically. Please report if it's wrong or inappropriate.

Rancho Camulos Museum and "Ramona"
Rancho Camulos Museum & National Historic Landmark
Categories