Salton Sea State Recreation Area field trip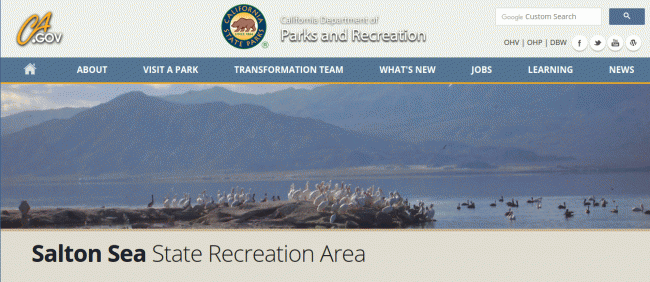 The Salton Sea has an interesting story behind its creation which can be learned in detail at their Visitors Center. There is a Park Ranger on-site who can answer any questions you have pertaining to the background of the Salton Sea and its birth. The Salton Sea is one of the world's largest inland seas and one of the lowest spots on earth at -227 below sea level!

Activities available to do while there include overnight camping, hiking, boating, bird watching, sightseeing, and enjoying a nice picnic and the surrounding scenery. There is an entry fee to get in, but it is reasonably priced. Campers need to make reservations in advance, contact the front office for pricing and available dates to camp.

While the Salton Sea has certainly had its issues in the past, the Department of Parks and Recreation has done a great job fixing its previous problems. Due to the increased salinity in the Salton Sea, there are only small amounts of fish to be found there, most popularly caught of those is Tilapia.
The below video is pulled from Youtube automagically. Please report if it's wrong or inappropriate.

Salton Sea State Recreation Area Campgrounds, CA
Salton Sea State Recreation Area
Categories