Salvation Mountain field trip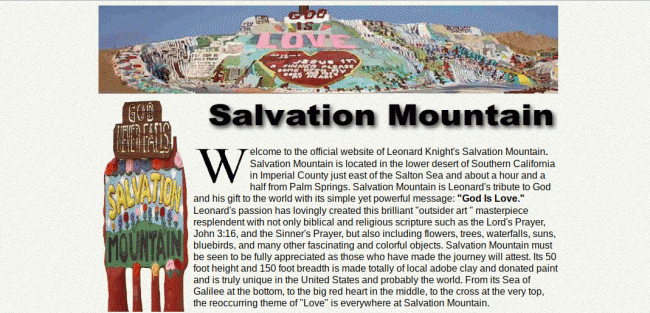 Salvation Mountain is an unusual, yet beautiful, tribute to God and his love for us. Salvation Mountain is a man-made mountain which was created by Leonard Knight. The first mountain that he created had been made from cement and sand, but unfortunately, it crumbled and fell after a couple of years. The mountain now known as Salvation Mountain was created by Adobe clay, hay, metal, scraps of wood, tires and a large amount of paint.

It is estimated that over 100,000 gallons of paint have gone into Salvation Mountain throughout the years. Leonard Knight passed away in 2014, but his mountain still remains and is known as a state treasure. Volunteers and a groundskeeper now maintain Salvation Mountain and occasionally apply new coats of paint when the weather has been harsh.

On-site you can see a dome, named Hogan, which was created by Leonard Knight using adobe clay and hay to keep cool on scorching summer days. There are colorful tunnels available for exploration with positive messages and biblical verses. Salvation Mountain is definitely one stop that should be on everyone's bucket list. It is a peaceful place to visit and fills you with a sense of love and hope.
The below video is pulled from Youtube automagically. Please report if it's wrong or inappropriate.

Lauren Daigle - Salvation Mountain (feat. Gary Clark Jr.) (Official Lyric Video)