San Bernardino County Museum field trip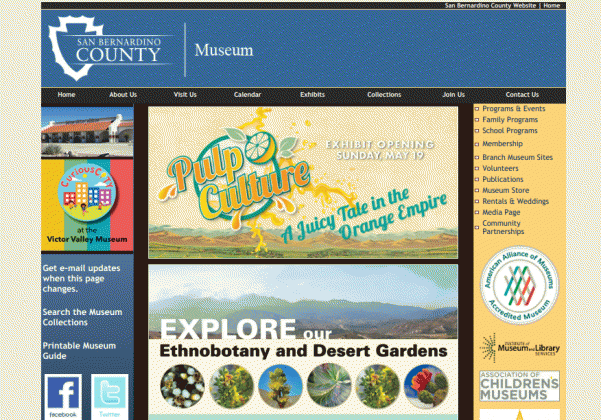 Opened to the public in 1957, the San Bernadino County Museum values public service, diversity, engagement, responsibility, and integrity among other core values. The exhibits held at the museum focus on the region's cultural and natural history. Attractions include rotating exhibits, Exploration Station, research collections, and public programs for citizens of all ages.

On the main floor of the museum, guests will traverse the Hall of History, Hall of Earth Sciences, and the Fisk Gallery. The upper level houses the Hall of Biodiversity, Sculpted by Time, Minerals Rock!, and the Schuiling Gallery. The outdoor areas of the museum are surrounded by citrus groves and orange blossoms.

Guests will see a Southern Pacific locomotive and a Santa Fe caboose, as well as a series of outdoor exhibits that depict the history of mining in the county, with authentic equipment including mine cars, generators, and a head frame. Lumber wagons, a water wheel that generated the first electricity in the city, and more large-size surprises are displayed on the Museum grounds. Not only does the museum feature large, industrial equipment, but guests can also Find-a-Fossil and step into the only dinosaur footprints ever found in southern California.

Group reservations and field trips are available to groups of 10 or more. Tours should be reserved online at least 2 weeks in advance of the desired tour date.
The below video is pulled from Youtube automagically. Please report if it's wrong or inappropriate.

San Bernardino County Museum: Our Mission
San Bernardino County Museum
Categories