San Joaquin Wildlife Sanctuary field trip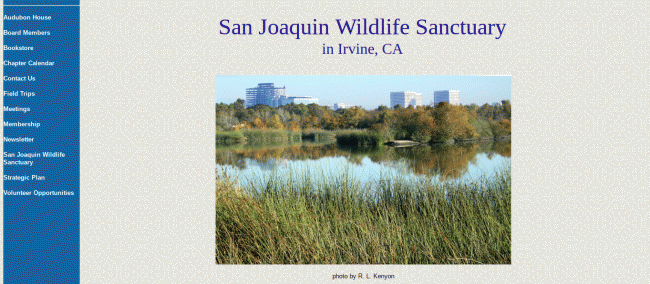 The San Joaquin Wildlife Sanctuary in Irvine, Ca was once home to several large duck hunting groups. As development eventually took over the area and environment-minded citizens began to look down upon the hunting of the birds, the land eventually became the sanctuary it is today.

One man, Peer Swan fought to make his desire to preserve and restore as much of the habitat as was reasonably possible a reality. And he did. Peer was described as a doer. He didn't just talk about something he wanted to do. He "decides, plans, and then just does it." Peer had a vision of a sanctuary where wildlife and people could co-exist in the midst of one of the fastest-growing urban areas in southern California.

A field trip schedule is released every year during the summer months, but it is not set in stone. Some dates are changed and some are canceled. The Sanctuary offers a few field trip reservations per season. These trips are limited to a maximum of 20 participants (including leaders) because of limited space on a boat, narrow winding trails in an area, limited parking areas, or specific size limitations set up by the owner or management of the area, such as the Seal Beach Naval Weapons Station.
The below video is pulled from Youtube automagically. Please report if it's wrong or inappropriate.

Nature Walk at San Joaquin Wildlife Sanctuary
San Joaquin Wildlife Sanctuary
Categories