Santa Barbara Zoo field trip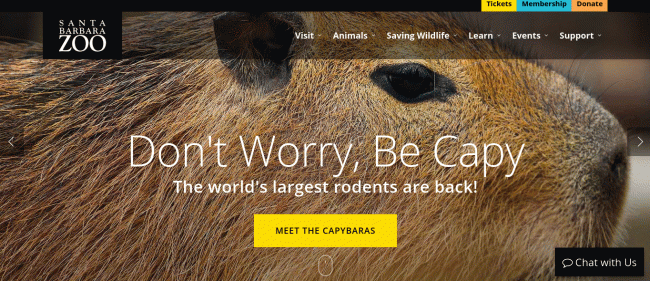 The Santa Barbara Zoo is an incredible place to visit not only with family and friends but for field trips as well! Visitors will gain first-hand knowledge of the natural world from one of the many experienced zookeepers that work at Santa Barbara Zoo. There are 146 species of mammals, reptiles, birds, and insects at The Santa Barbara Zoo and more than 500 animals that are exhibited in open, naturalistic habitats.

Between a large number of animals and attractions, it's nearly impossible to find yourself not having a good time at the zoo. Some popular attractions at the Santa Barbara Zoo include the Zoo Train, Giraffe Feeding, The Rattlesnake Quarry, The Family Play Area, and the Art Exhibit. The Barnyard Climbing Wall is popular, as are the live shows and don't forget to check out the attraction known as Behind-the-Scenes.

Contact Santa Barbara Zoo for more information on their attractions, hours of operations and for occasional deals. Be sure to check out their website and keep up to date on news about the animals!
The below video is pulled from Youtube automagically. Please report if it's wrong or inappropriate.

Santa Barbara Zoo - California With Kids