Santa Rosa Plateau field trip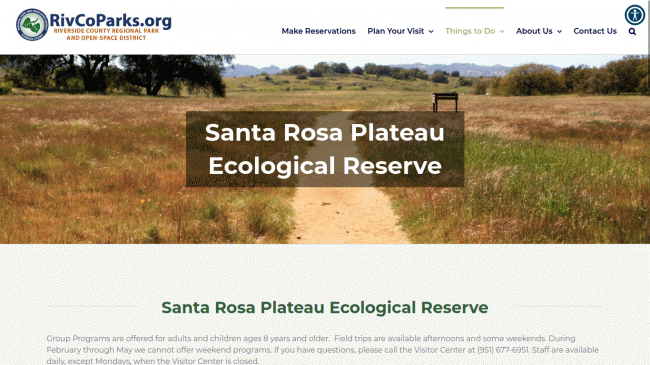 Santa Rosa Plateau is a 9,000-acre ecological reserve which protects unique ecosystems. Within its ecosystem, there are over 200 species of native birds, and 49 species of endangered or threatened animals and rare plants.

There are a number of trails which can be hiked, biked or ridden on horseback. One of the most interesting stops at Santa Rosa Plateau includes a trail that stops by Moreno and Machado Adobes, two of the oldest structures in Riverside County dating back to 1846. They both once served as bunkhouses for cowboys. There are also picnic tables where you can stop and enjoy a packed lunch while basking in the beauty of nature.

Santa Rosa Plateau is a great place to go for class field trips, homeschooling trips, Scouts visits or just to breathe in the fresh air while out on a self-paced nature hike. Class tours offered by Santa Rosa Plateau include an interpretive mile hike and two hours of learning based on the plant community, geology, animals, and plant life as well as human history at Santa Rosa Plateau.
The below video is pulled from Youtube automagically. Please report if it's wrong or inappropriate.

Santa Rosa Plateau Ecological Reserve