South Coast Railroad Museum field trip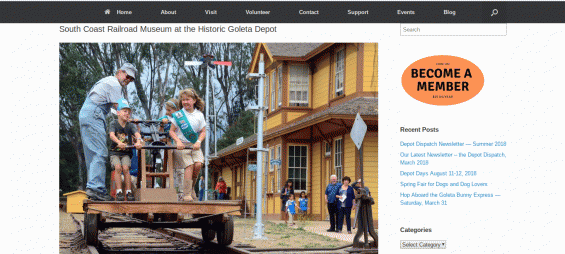 Located in Goleta, California, the South Coast Railroad Museum is dedicated to the history of railroading, its contributions to local history, and the Southern Pacific Railroad. The Museum is built around the Goleta Depot, a Nationally Registered "historic place" built by the Southern Pacific in 1901 during completion of the Coast Route joining Los Angeles and San Francisco.

Take a ride on the Miniature Short Line Railroad and wind through the grounds while you learn the history of the railroad from the engineer. Afterward, you can visit the exhibits inside the museum and even tour an old train car. Kids will also love the model train display, which can be found in the Goleta Depot. Finally, visit the gift shop to find all kinds of railroad-themed gifts for friends and family.

There are also a few nearby attractions within walking distance, including the beautiful Stow House - a restored Carpernter Gothic home, and the Lake Los Carneros Ecological Preserve - a hidden gym of Goleta with multiple trails for visitors to enjoy walking, biking, observing wildlife and fishing.
The below video is pulled from Youtube automagically. Please report if it's wrong or inappropriate.

Train ride at the South Coast Railroad Museum in Goleta, California
South Coast Railroad Museum
Categories