Sunnylands Center and Gardens field trip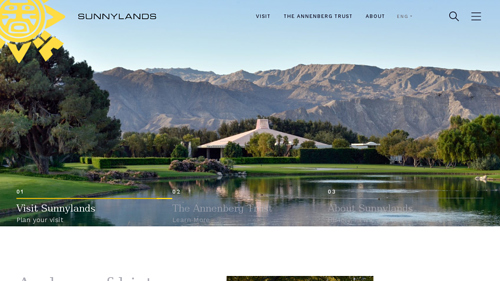 Sunnylands Center & Gardens, open free to the public, features exhibitions, films, and educational programs; and visitors can enjoy a nine-acre garden. Over 70 species of native and arid-adapted plants from North and South America, Africa, and the Mediterranean are displayed in the Gardens.

Visitors to the Center & Gardens enjoy sculpture from the Sunnylands Collection as well as a rotating exhibition. There is a film and other offerings about the history of Sunnylands and its founders, Walter and Leonore Annenberg.

Many key figures of the 20th century enjoyed Sunnylands as guests of the Annenbergs, including seven U.S. presidents, the British royal family, and Hollywood icons like Bob Hope, Frank Sinatra, Ginger Rogers, Jimmy Stewart, and many others.

Light lunches and snacks are served at the Sunnylands Cafe, while you enjoy the best view in the Valley. The Cafe offers light lunch items and breathtaking mountain and garden views.


The below video is pulled from Youtube automagically. Please report if it's wrong or inappropriate.

Sunnylands Center and Gardens
Sunnylands Center and Gardens
Categories