Temecula Valley Museum field trip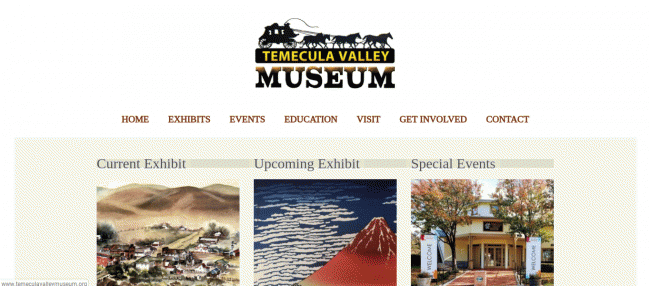 The Temecula Valley Museum aims to represent life in the Temecula Valley during different times and showcasing the different cultures that influenced the development of the area.

The main history exhibit contains handcrafted artifacts, cultural items, ranching and farming equipment, documents, photographs, and more. Exhibits depict key stories, including the Luiseno Indians, Mission San Luis Rey period, the establishment of the ranchos, and transportation influences including the stagecoach and railroads.

Self-guided walking tours and guided tours are available by appointment. With safety and security the priority for their group tours, the ideal group size for docent-led student groups is 30 to 40 students, with 60 being the absolute maximum number of participants. Adult chaperones are required to provide extra supervision during trips at a ratio of 1 adult per 10 students. Student tours are generally split into two segments; one group will tour the museum first, followed by a 30-minute lunch and a walking tour. The second group will do the opposite of the first group.
The below video is pulled from Youtube automagically. Please report if it's wrong or inappropriate.

Temecula Valley Museum