The Autry Museum of the American West field trip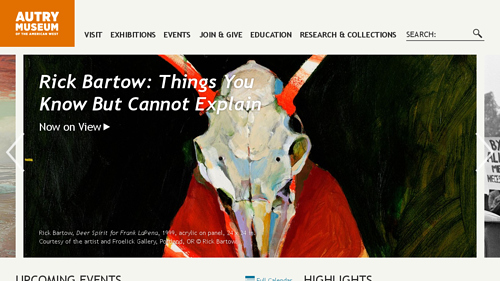 Explore art, history, and culture at the Autry Museum of the American West. Located in beautiful Griffith Park, the Autry presents a wide range of exhibitions and public programs, including lectures, film, theater, festivals, family events, and music.

The Autry's collection of more than 500,000 pieces of art and artifacts includes the Southwest Museum of the American Indian Collection, one of the largest and most significant collections of Native American materials in the United States.

The Autry also has a new kid-friendly movie studio space designed and built by artist Mac Maker. The Imagined West Studios encourages visitors to act out and film their own cinematic visions of the American West using creative props on a whimsically themed set. Designed with children ages 2- 6 in mind, but it's still fun for the whole family.

Admission ranges from $6 - $14.
The museum is open and free on the second Tuesday of every month, sponsored by Wells Fargo with support from Sony Pictures Entertainment.


The below video is pulled from Youtube automagically. Please report if it's wrong or inappropriate.

The Autry Museum: A Must-See Destination for Fans of the American West
The Autry Museum of the American West
Categories