The Broad field trip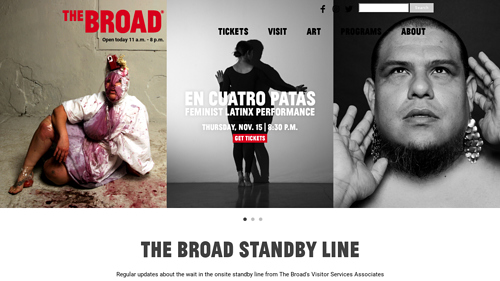 The Broad is a contemporary art museum on Grand Avenue in downtown Los Angeles. The museum is home to the 2,000 works of art in the Broad collection, which is among the most prominent holdings of postwar and contemporary art worldwide. The 120,000-square-foot, $140-million building features two floors of gallery space to showcase The Broad's comprehensive collection and is the headquarters of The Broad Art Foundation's worldwide lending library.

An onsite ticketing line is available at the museum every day except Mondays, when the museum is closed. Admission for the onsite ticketing line is first come, first served, based on availability. The wait time in the onsite ticketing line is 30 to 45 minutes on an average weekday, and 60 to 90 minutes on an average weekend.

On holiday weekends, wait time in the onsite ticketing line can be up to two or three hours. The onsite ticketing line closes 90 minutes before the museum closes.

General admission to The Broad is free.
The below video is pulled from Youtube automagically. Please report if it's wrong or inappropriate.

A visit to The Broad | a contemporary art museum | Los Angeles, California