The Getty Villa field trip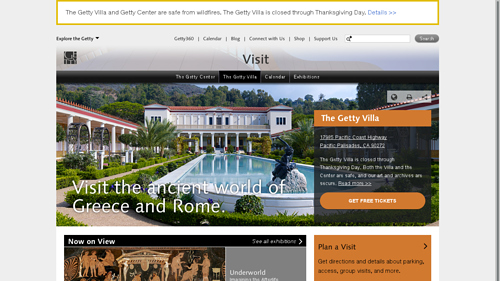 The Getty Villa, home to the J. Paul Getty Museum's antiquities collection, the two-floor museum displays art that spans the 7,000 years from the end of the Stone Age to the fall of the Roman empire. The Museum's collection includes approximately 44,000 Greek, Roman, and Etruscan antiquities.

The collection features Neolithic clay figurines, Cypriot and Cycladic marble vessels and figurines, Greek bronzework, South Italian sculpture, and an original Greek bronze statue known as The Victorious Youth.

The museum is a near replica of the Villa dei Papiri, a luxurious Roman residence that had been buried by the eruption of Mount Vesuvius in 79 A.D. The scale, appearance, and some of the materials of the Getty Villa are taken from the Villa dei Papiri, as is the floor plan, though it is a mirror of the original.

The below video is pulled from Youtube automagically. Please report if it's wrong or inappropriate.

Visiting the Getty Villa & Getty Center in One Day