The Richard Nixon Presidential Library field trip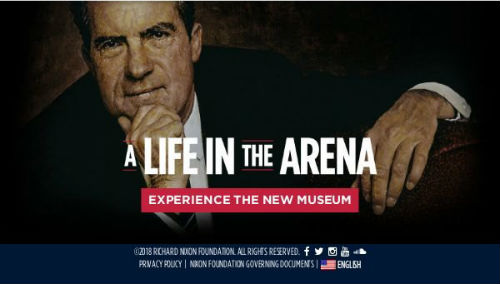 The twenty-eight-year-old Nixon Presidential Museum was renovated less than two years ago, and now features nearly 70 new major exhibits, 11 original films, 30 unique multi-media experiences, 10 curated archival film sequences, 12 custom digital interactives, over 600 photographs, 8,000 square feet of wall murals and more than 300 artifacts.

At the Nixon Library, you can enjoy tours of Richard Nixon's original birthplace and boyhood home, take in the splendor of the White House East Room, walk through the presidential helicopter that flew four Presidents, and visit the final resting places of President and Mrs. Nixon.


The famous Pat Nixon Gardens are in full bloom and brimming with colors. You can take a docent-guided tour free with regular admission. Tours are offered every Saturday and Sunday.



The Richard Nixon Presidential Library
Categories