UCR Botanical Gardens field trip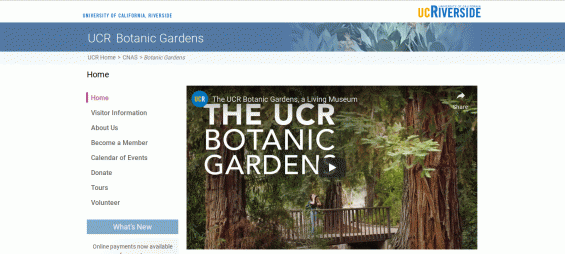 When it comes to enjoying the beautiful Box Springs Mountains located to the east of UC Riverside, the UCR Botanic Gardens is the place to go!

With 40 acres of hills and beautiful landscape, as well as over 4 miles of scenic trails, you'll find yourself getting lost in nature. With over 10 acres dedicated to the native plant communitie and more than 3,500 plant species in total, you'll be able to see California in it's most natural and gorgeous state!

The gardens are mostly used for teaching, research, and enjoyment purposes, making it a great place to bring your kids to learn about the California wildlife!

If you'd like to schedule a free tour, contact UC Riverside, and make sure to meet at the Garden entrance at the scheduled time. Groups more than 15 minutes late are automatically canceled. Also make sure to schedule at least one month in advance, as tours are on a first come first serve basis, but of course self-guided tours are available as well for groups of less than 10!
The below video is pulled from Youtube automagically. Please report if it's wrong or inappropriate.

Inside UC Riverside's Botanic Gardens