USS Iowa Museum field trip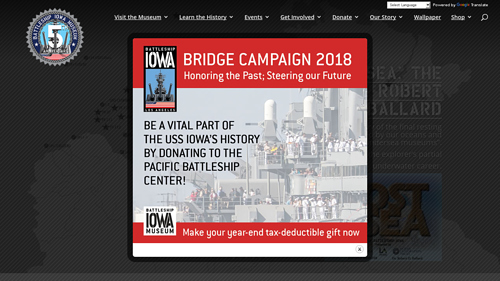 Known as the Battleship of Presidents, USS Iowa is located at the former home to the US Navy Pacific fleet and an area rich in maritime history.

Visiting the USS Iowa Battleship Museum at the Los Angeles Waterfront is a unique interactive experience for individuals, families, groups and as an experiential tool for educators. Your museum adventure highlights life at sea through innovating and engaging exhibits and tours.

Children and adults alike can also follow the IOWA's clever mascot dog, Victory, on a popular scavenger hunt. Regardless of age, there is something for all to experience aboard the Battleship IOWA.

You can also download the IOWA's free tour app to experience videos, augmented reality, and special tours aboard this historic icon (available in 7 languages).




The below video is pulled from Youtube automagically. Please report if it's wrong or inappropriate.

USS IOWA FULL TOUR | Naval Battleship Legend