USS Midway Aircraft Carrier field trip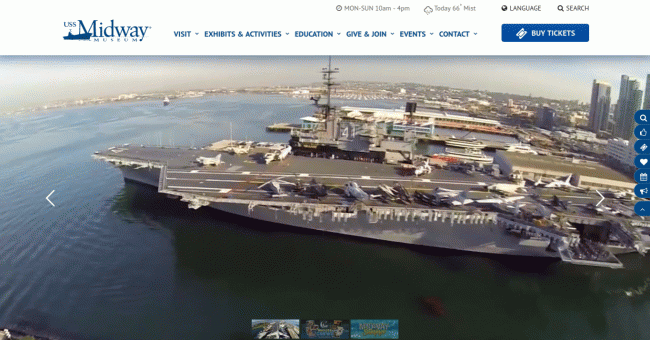 The USS Midway Aircraft Carrier has over sixty exhibits between the hangar deck, flight deck, below deck, and their Wall of Gratitude as well as twenty-nine restored aircraft.

There are a number of activities available for guest to do aboard the USS Midway Carrier such as checking out the Battle of Midway theater, flight simulators, guided island tours, junior pilot programs, and catapult and trap talks, just to name a few. While exploring the USS Midway, visitors will get the chance to learn about the history behind the aircraft carrier and how it was the longest-serving aircraft carrier in the 20th-century. Visitors will also learn about how The USS Midway got its name, and how long it took to build the carrier, as well as much more knowledge about the carrier.

Students will enjoy visiting the USS Midway Aircraft Carrier during a field trip and experiencing hands-on, interactive learning activities. Students can learn about Newton's Law of Motion, Social Studies, Thermal Energy, Lights, Shipboard Engineering, and many other topics while on their field trip. Lessons vary depending on the grade level of students.

The USS Midway Aircraft Carrier also holds events such as Top Gun Movie Night, Legacy Week, Veteran's Day Celebrations, and more.
The below video is pulled from Youtube automagically. Please report if it's wrong or inappropriate.

USS Midway Aircraft Carrier Museum San Diego Video Tour
USS Midway Aircraft Carrier
Categories