Ventura Water field trip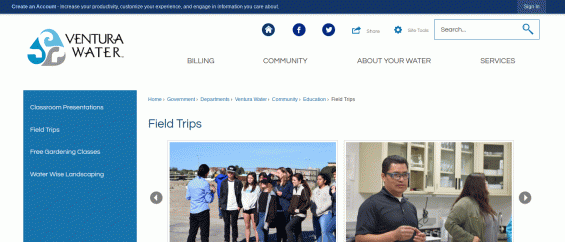 The Ventura Water Reclamation Facility in Ventura, California is home to three of the greatest hidden wildlife gems in California - Snoopy, Lucy, and Bone. No, not Peanuts characters, but three man-made ponds created by Ventura Water that provide some of the states best views of wildlife; specifically birds. Birders, people who have made a hobby out of viewing rare and unique birds, flock here every day to view the estimated 240 species of birds that stop by the ponds.

Students will be fascinated with the wildlife here at the Facility, while learning how Ventura Water is treating and re-purposing water. In addition to spotting the many species available for viewing, students will participate in water collection, and learn how it is tested for PH and other contaminants. They'll view the labs where the testing is done, as well as check out the pipelines and storage areas for the treated water.

Please visit the website for information regarding times available, and to download the necessary forms.

Note: Students must be 4th grade or above.
The below video is pulled from Youtube automagically. Please report if it's wrong or inappropriate.

Ventura Water Unveils VenturaWaterPure Potable Reuse Demonstration Facility