Watts Towers of Simon Rodia State Historic Park field trip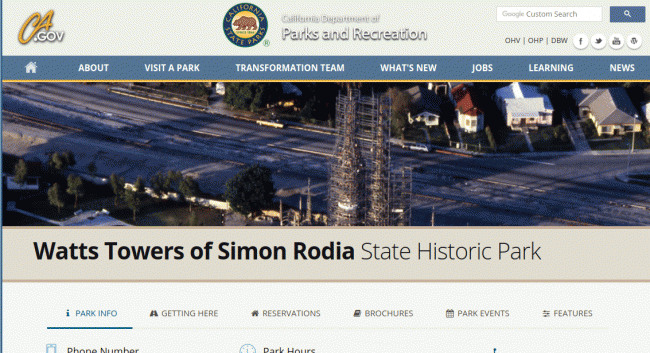 Containing the longest reinforced concrete columns in the world at the time of its completion in 1959, the Watts Towers are one of a kind- constructed by a single, self-taught artist. The Watts Towers have a steel core, wrapped in wire mesh, covered with mortar, and inlaid with tile, glass, shell, pottery, and rocks. Set in a fourteen-inch foundation, the tallest of these towers is ninety-nine and a half feet tall.

This site has become the center point for cultural and aesthetic movements addressing issues of social and economic justice. Presently, the Watts Towers serve as a symbol of freedom, creativity, and initiative for the local African-American and Latino community and beyond.

Rightfully so, the Watts Towers are a National Historic Landmark, California State Historic Monument, California State Historic Park, and a Los Angeles Cultural Heritage Monument; the towers are listed on the National Register of Historic Places as well.
The below video is pulled from Youtube automagically. Please report if it's wrong or inappropriate.

Look At This: Watts Towers
Watts Towers of Simon Rodia State Historic Park
Categories