Western Foundation of Vertebrate Zoology field trip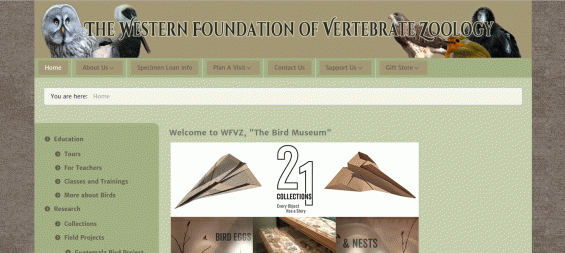 Welcome to the Western Foundation of Vertebrate Zoology! A day spent exploring one of the world's largest collections of bird nests, eggs, and skins will ignite the curiosity of anyone that participates.

They have a large selection of individual, group and class tours that can accommodate almost anyone, any age or any type of group. As a leader in bird education and conservation research, you can easily schedule a class tour full of fun facts, interesting stories and even labs where participants can examine physical specimens, led by a knowledgeable staff of experts.

If you like learning, inspecting incredibly colorful and exotic specimens, and supporting our wildlife, look no further. All you need to do is click the link and you will understand why. The WFVZ website has all the information you need to learn more, donate, or schedule an educational and wonderful day full of learning and new experiences.

With seemingly endless interesting specimens, be sure to call ahead and book your tour in advance. It's the only way they can fit everyone in!

The below video is pulled from Youtube automagically. Please report if it's wrong or inappropriate.

Walkthrough of the Western Foundation of Vertebrate Zoology (aka Camarillo Bird Museum)
Western Foundation of Vertebrate Zoology
Categories