Whitaker-Jaynes Estate and the Bacon House Museums field trip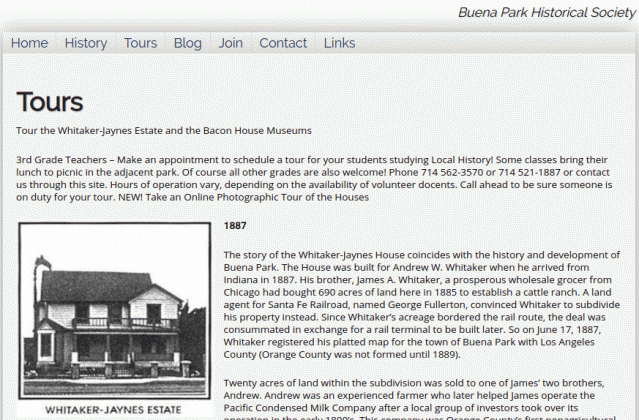 There's some fascinating history behind both the Whitaker-Jaynes Estate and the Bacon House- where better to learn about them then from visiting both?

In 1885 James A. Whitaker bought 690 acres of land which would later be subdivided, twenty of those acres went to one of his brothers, Andrew. The Whitaker-Jaynes House was built for Andrew in 1887 when he came from Indiana. In 1965 the city of Buena Vista bought the house and created a park on surrounding land. Whitaker-Jaynes Estate was the first house to become part of the Historical District.

The Bacon House was built around 1884 by an unknown squatter on land being held in trust for a minor. It was the second house to join the Historical District. It was given to Buena Vista in 1976 and was moved to the Whitaker-Jayne Estate Park, then later moved again in 1994.

Both houses are still furnished with some of the original furnishings and family heirlooms from the original house before they had been restored.

Fieldtrips and tours are available to take, but calling ahead is suggested since hours of operation are subject to change depending on volunteer availability.
The below video is pulled from Youtube automagically. Please report if it's wrong or inappropriate.

The Whitaker-Jaynes House and Bacon House Museums
Whitaker-Jaynes Estate and the Bacon House Museums
Categories