Wignall Museum / Gallery field trip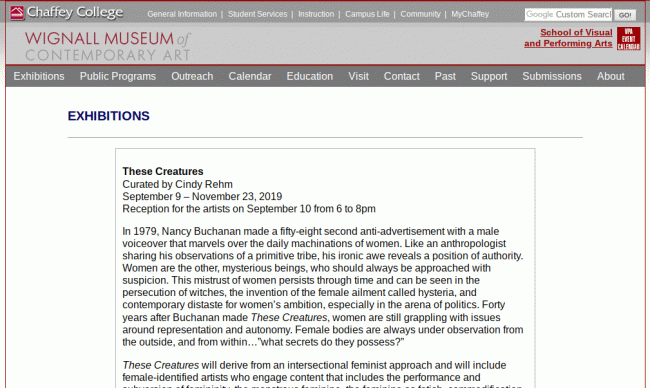 The Wignall Museum opens the minds of Chaffey College students, faculty, and community members to innovative contemporary art. By cultivating critical thinking, visual literacy, discourse, and empathy the museum seeks to enhance the intellectual and cultural life of the community. The Wignall Museum believes in the power of art to generate new ideas, and that art fuels creativity and critical thinking, essential for innovation.

The Wignall Museum is an important part of the educational programs and mission of Chaffey College. Some of the artwork contained in the exhibitions and publications may contain mature content. Adults are encouraged to preview content prior to sharing with minors.

The museum is open weekly but closed on Fridays and Sundays. Guests interested in group tours should contact museum staff for further information. Admission is free, however, guests must purchase a parking pass as the museum is located on the Chaffey College campus.
The below video is pulled from Youtube automagically. Please report if it's wrong or inappropriate.

Wignall Art Museum History Documentary
Wignall Museum / Gallery
Address
Chaffey College, 5885 Haven Ave.
Rancho Cucamonga, CA 91730
Map / Directions
Categories